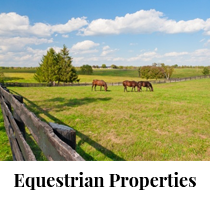 Do you have an equestrian property or you've been thinking of acquiring one? How can you best maintain an equestrian property?
Pasture Management
Pay attention to pasture management, such that you can utilize the idea of rotational grazing which allows pasture to rest (and gives manure time to break down). Basically, you should give grass some much-needed recovery time in order to help protect topsoil. You can also use fertilizer to help revive an exhausted pasture.
Weed Sprays
Ideally, you don't want too many weeds. Of course, getting rid of weeds is time-consuming and can be expensive. Use weed sprays in a careful way (restricting horse access for some time) and also do research on invasive/poisonous weeds so you know which ones to get rid of quickly.
Mosquito Reduction
Do you want to reduce the number of bugs and mosquitoes on your equestrian property? Install birdhouses so more and more birds will feed on the insects trying to fly around your property. As for mosquitoes, reduce or eliminate pools of stagnant water.
Water Trough and Fence Maintenance
Make sure to check water troughs for leaks. If you have leaks, fix them. Also, good drainage is key for maintaining a fairly clean, nice property. What about manure? Try to cover your manure pile and don't fill in low areas with it (for soil bedding).
Finally, maintain your fence line so horses don't escape from your property. You also want to maintain the fence so that horses don't injure themselves on it.
Searching for equestrian property in the Carolinas? Metcalf Land Company can help you find it! This link can show you current equestrian estates and horse farms for sale, especially in South Carolina. For further information, contact Metcalf Land Company at 864-585-0444.