When you think of taking a vacation, what do you think of, first? If you're like the majority of people, you want to go somewhere warm near the water.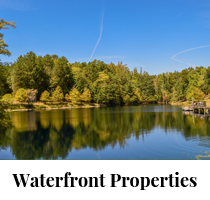 That could mean a cottage by a lake or a beach house near the ocean. It could also mean a trailer by a pond or a condo overlooking a river. One thing's for sure: millions of people love being near water! There's something natural and beautiful about being near water.
Why Waterfront Properties in South Carolina Are in High Demand
Waterfront homes typically carry extra value. In other words, they're more expensive. Why is this? Well, for starters, they're in-demand– there's only so much "shoreline," and people are willing to pay specifically for "water views." They want to be able to look out several of their windows and see a body of water outside. For that they'll pay top dollar.
Living by water reminds most people of being on vacation. So, when they have a house near the water, it's like a vacation home, even if it's the place where they live all year round. And, if they like watersports, they can easily boat, kayak, jet ski or wakeboard "in their backyard." They can also "fish off the dock."
Even when other area homes may see a downturn in prices, for whatever reasons, waterfront homes tend to hold their value and, in most cases, increase their value over time. Waterfront communities tend to be desirable low-crime/good school neighborhoods where people live happy lives among friendly neighbors who enjoy getting together and partying. Parents often find waterfront homes tend to be a good place to raise children.
Looking for land where you can build your house on a nice waterfront plot of land near a pond, river or lake? Metcalf Land Company helps people find "for sale" waterfront properties in South Carolina. Check out the options here. For more info, call 864-585-0444.